New Practice Members Family Chiropractic and Wellness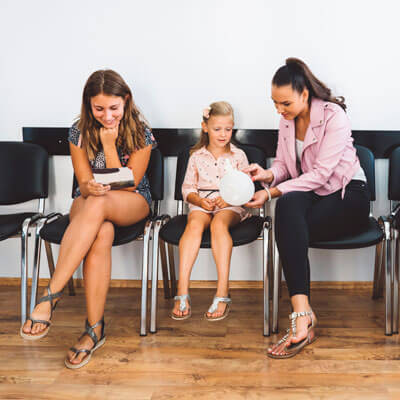 Welcome to Family Chiropractic and Wellness, a family-friendly place where all ages will feel at home. Lydia, our front desk coordinator, was a member at our practice for years before joining our team. Our practice members love her friendliness and understanding of what it's like to be new to our office.
Children have their own area to play and be themselves, and we offer snacks for them, too. We can't wait to meet you and get to know you!
ONLINE FORMS

Getting Started
Your initial paperwork can be downloaded from this site or will be emailed before your first visit. This questionnaire will provide the doctor with your health history and concerns. Dr. Cathy will review this information with you. A comprehensive chiropractic examination will then be performed to assess your ranges of motion, posture, orthopedic and neurological function.
Our practice has invested in the latest technologies that scan your spine and nerves for deeper changes. A series of precision sensors can detect tiny changes within your muscles, joints, temperature controls and even your heart rhythms. This powerful technology then takes all the data from these different tests and calculates your spinal health score. These tests take only a few minutes to perform and are completely safe. They are designed to "listen" and "measure" how well your spine and nerves are working together.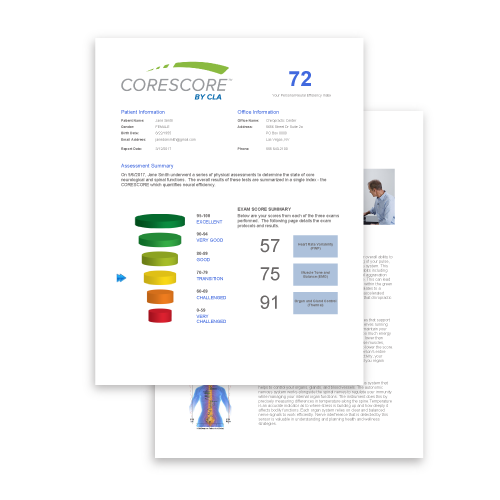 All of this important information from each test is reviewed by Dr. Straus. By combining the scores from each of the tests, an overall result, known as the COREscore™ is produced. This is your stress number. It represents how efficiently your spinal nerves are working to keep you in the healthy zone. A perfect score is 100. Our goal will be to get you moving towards that 100 score!
When the examination is complete, Dr. Cathy will determine whether X-rays are necessary. Not everyone is sent for X-rays. The purpose of the consultation and examination is to determine if yours is a chiropractic case. If it is, Dr. Cathy can help. If not, she will let you know and refer you to the appropriate health care practitioner.
Determining Your Care Plan
Before any treatment is undertaken, Dr. Cathy will provide you with a Report of Findings related to your condition, as well as goals of treatment. This is a good opportunity to get questions answered and make decisions about your care.
Your chiropractic treatment plan will include chiropractic adjustments as well as exercise and massage if recommended.
Subsequent Visits
We perform periodic re-examinations, including scans to understand your progress and make any necessary changes to your care.
Are you ready to find out what we can do for you? Contact us today to book your time!
CONTACT US »

New Practice Members at Family Chiropractic and Wellness | (519) 579-2430